The Flute and Tankard Cardiff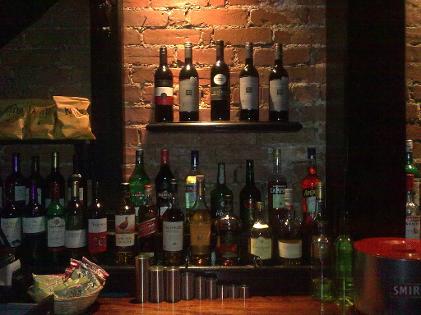 WELCOME TO THE FLUTE AND TANKARD
A pub where friends, old and new, come together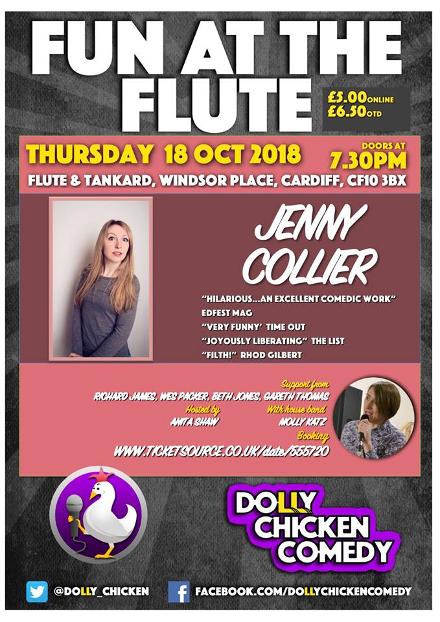 Dolly Chicken Comedy presents
Fun at the Flute
with Jenny Collier
Support from
Richard James
Wes Packer
Beth Jones
and Gareth Thomas
hosted by the fabulous Anita Shaw
TICKETS AVAILABLE NOW FROM www.ticketsource.co.uk/date/555720
FORTHCOMING JAZZ NIGHTS in the upstairs bar
Jazz at the FLUTE AND TANKARD
16th OCTOBER GREG STERLAND QUARTET

Greg Sterland (sax), Toby Boalch (piano), Aeddan Williams (d/bass) and Paolo Adamo (drums)
Greg is a Bristol based Saxophonist and a RWCMD graduate. He brings this new quartet of all original music with influences from Jazz, Pop, Indian and African music.

17th OCTOBER BANSHEE IMPROVISATIONS B
This Brilliant trio are here to encourage and support so bring your instruments and join in
23rd OCTOBER ROYAL WELSH COLLEGE OF MUSIC AND DRAMA SHOWCASE
1st Set -Daniel Newberry Trio
Daniel ((sax),Alex Goodyear (drums) and Michael Blanchfield (keys)
The trio will explore a collection of hard swinging tunes within the environment of a bass-less trio.



2nd Set - Arkocean
Alex Lockheart (guitar) Michael Blanchfield (keys) and Eddie Jones-West (drums)
Arkocean are a 3 piece organ trio playing original music. From floor filling groves , catchy melodies, earth quaking riffs and intrepid improvisations. This band will definitely prick your ears.
24th October CHURCHFIELD TRIO
Kumar Chopra (guitar), Michael Blanchfield (organ) and Alex Birch (drums)
This exciting Trio bring you their original music and their interpretation of some great standards.
30th October MY IRIS
MY IRIS - Trish (sax), Ross Stanley (piano/Hammond Organ),
Chris Montague (guitar) and James Maddren (drums). Trish provides her bandmates with a unique platform for individual expression, delivering driving grooves and lingering melodic lines,seamlessly morphing between earthy restlessness and futuristic dramascapes.
6th NOVEMBER NORMAN WILLMORE QUARTET
Norman brings an new chordless quartet to Cardiff.l Norman(sax), Christos Stylianides (trumpet), Sam Ingvorsen (bass) and Felix Ambach (drums). The Quartet will be playing a quirky repetoire from all across the history of jazz with a focus on great melodies. Expect interesting arrangements of everything from pre-war classics to Ornette Coleman.
7th NOVEMBER ROYAL WELSH COLLEGE OF MUSIC AND DRAMA SHOWCASE
,Set 1 - Yasmin Browne Quintet - The performance explores a variety of Genres and Styles. Yasmin (vocals) Thom Voyce (trumpet), John Close (guitar) Ben Manning (bass) and Alex Goodyear (drums)

Set 2 -Ben Manning Trio #1 - Playing and eclectic mix of music, to show a snapshot of the things Ben has discovered over his years at the RWCMD. Who knows where this one might go. It is bound to be exciting.
Michael Blanchfield (keys), Ben Manning (bass) and Eddie Jones-West (drums).
13th NOVEMBER STEPS AHEAD
Tomos joins forces with young tenor sax player Adam Nolan, from Dublin, in a Welsh/Irish Quintet to play the music of Jazz legend Miles Davis. Tomos Williams (Trumpet), Adam Nolan (saxes), Dave Jones (piano) and Mark O'Connor (drums)