The Flute and Tankard Cardiff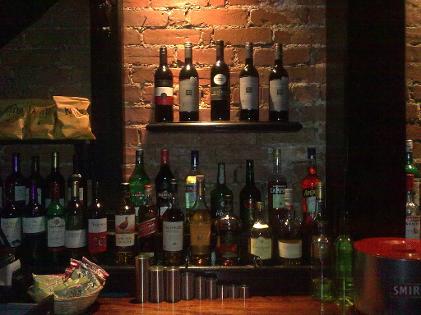 WELCOME TO THE FLUTE AND TANKARD
A pub where friends, old and new, come together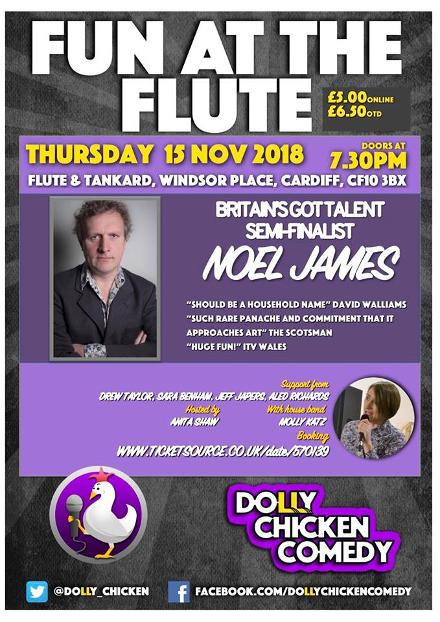 Dolly Chicken Comedy presents
Fun at the Flute
with NOEL JAMES
Support from
Drew Taylor
Sara Benham
Jeff Japers
and Aled Richards
hosted by the fabulous Anita Shaw
TICKETS AVAILABLE NOW FROM www.ticketsource.co.uk/date/570139
FORTHCOMING JAZZ NIGHTS in the upstairs bar
JAZZ at the FLUTE AND TANKARD
6th NOVEMBER NORMAN WILLMORE QUARTET
Norman brings an new chordless quartet to Cardiff.l Norman(sax), Christos Stylianides (trumpet), Sam Ingvorsen (bass) and Felix Ambach (drums). The Quartet will be playing a quirky repetoire from all across the history of jazz with a focus on great melodies. Expect interesting arrangements of everything from pre-war classics to Ornette Coleman.
7th NOVEMBER ROYAL WELSH COLLEGE OF MUSIC AND DRAMA SHOWCASE
,Set 1 - Yasmin Browne Quintet - The performance explores a variety of Genres and Styles. Yasmin (vocals) Thom Voyce (trumpet), John Close (guitar) Ben Manning (bass) and Alex Goodyear (drums)

Set 2 -Ben Manning Trio #1 - Playing and eclectic mix of music, to show a snapshot of the things Ben has discovered over his years at the RWCMD. Who knows where this one might go. It is bound to be exciting.
Michael Blanchfield (keys), Ben Manning (bass) and Eddie Jones-West (drums).
13th NOVEMBER STEPS AHEAD
Tomos joins forces with young tenor sax player Adam Nolan, from Dublin, in a Welsh/Irish Quintet to play the music of Jazz legend Miles Davis. Tomos Williams (Trumpet), Adam Nolan (saxes), Dave Jones (piano) and Mark O'Connor (drums)
14th NOVEMBER BANSHEE

This a great opportunity to come and play with a fine Trio. The floor (stage) is open to all, no organisation just get up and play when you want to join in. This is improvisation on a scale that we hope you will enjoy and contribute to. You are all more than welcome to come and just listen and enjoy too. Joe Northwood (sax) Aeddan Williams (bass) and Paulo Adamo (drums)
NOVEMBER 20th ROYAL WELSH COLLEGE OF MUSIC AND DRAMA JAZZ SHOWCASE
Set 1 -Paul Helliwell Group - Exploring a set of originals based on the music of Mammal Hands, Corrie Dick and the Ezra Collective.
Paul (sax), Rachel Head (sax), Nathan Steel (guitar) Michael Blanchfield (piano) and Alex Burch (drums).
Set 2 - Hivemind - Music heavily inspired by Ambrose Akinmusire and Vijay Iyer, based around contemporary feels and dark harmony.
NOVEMBER 21st AFURIKO
Following an appearance at the London Jazz Festival this amazing Duo come to us. The African infused jazz duo, from Queens, are on a short UK tour for the first time since they made New York City their home. Check out www.afuriko.com
Jim Funnell (piano/composer) Akiko horri (percussion +)
NOVEMBER 27th WILLIAMS AND THORNE DOUBLE BASS DUO
The two friends, who are outstanding bassists, will be exploring modern music and pushing the boundaries of the double bass. Expect plenty of improvising, textures and perhaps some electronic interference. A very rare musical experience.
NOVEMBER 28th FINI BEARMAN & HUW WARREN
Fini Bearman is a London based singer, songwriter and composer, gets together with maestro pianist and composer Huw Warren to bring a unique performance to The Flute and Tankard.